Working Lives
Working Lives: The Farmer Who Became a Policeman After Secondary School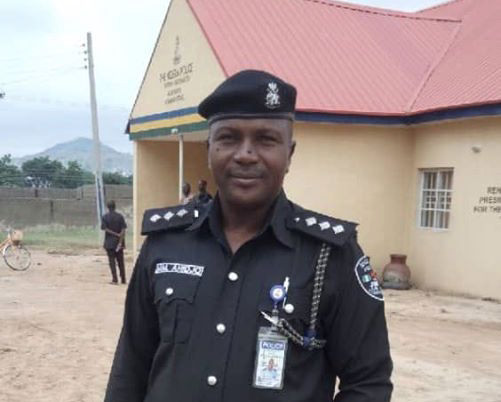 Working Lives: The Policemen of Lagos
Our fascination with policing did not start with #EndSARS. Since we did the story, THIRD MAINLAND BRIDGE: When the Police Is Truly Your Friend, in January 2020, we have been thinking of doing a WLS series on the police. But #EndSARS just made it more urgent with the heightened discussion of police welfare and the quality of policing. The policemen we spoke to think of the quality of policing in Nigeria as simply a reflection of the general decay in government and of public services. We agree with them to an extent. Enjoy the peep into their Working Lives. 
Working Lives: The Farmer Who Became a Policeman After Secondary School 
"The funny thing is some of these officers even lie to the DPO that they didn't make any money for that day. They don't remit up to the amount they got. So you can see that there is corruption while still being corrupt at the same time. I don't know if I am making sense."
Where are you from?
I am from Abeokuta in Ogun state.
Please, tell us about your education
I attended Owode LG Primary School for my primary school education and Model College Abeokuta for my secondary school education. 
And your family?
I come from a family of six. My father and mother were both farmers in Abeokuta. My father is late now. My mom just sells petty things besides the family house in Abeokuta. I am the second child. 
Where do you live and how much is the rent?
I live in a bedroom self-contain apartment in Agege. I pay N6,000 per month.
How did you start working as a police officer, what attracted you to the job?
It was clear when I finished secondary school that I couldn't proceed to the university. My father had died. His friend, a senior police officer in Lagos, told me the police were recruiting and got forms for me. He pulled some strings for me to get in. I cannot say I was attracted to the job or interested in it. It was just the only option for survival.
Were you trained at the Police Academy?  
I did not go to the Police Academy.
How much do you earn and do you consider it adequate?
I earn N51,113.59 per month. I do not consider it adequate. Apart from the fact that the job is a very dangerous one, the force hardly cares about the welfare of we the recruits. It is only those that went to the police academy, our ogas them in the office that gets all the benefits. We that are on the streets of Lagos doing the bulk of the work hardly get a proper reward for our dedication.
Do you agree that the police force is the most corrupt institution in Nigeria?
I don't think the police are the most corrupt institution.  Everyone that works with the government is corrupt. Right down to the most junior officers in a government office. You hear of cases whereby someone in the Ministry of Environment goes on inspection to factories and they get there and find out that the factory is not following protocols. The boss leading the inspection could be given as much as N2 million just to keep his mouth shut. The boss takes the bulk of the money and gives a little to everyone in the office so they can all keep their eyes and mouths shut. Even the youth corper gets something. These are things we all know but everyone chooses to point fingers at just the police. I think this is because the police use force when they are doing their own corruption. They can point guns at citizens, threaten to kill them, torture them, frame them up for crimes they know nothing about. Someone under such duress will not hesitate to give you whatever amount you request from him or her. But everyone in government is corrupt!
What are the top three things that can improve police conditions and also the quality of policing?
Increment of salaries, a proper pension scheme for us ahead of retirement, and lastly police improving the police stations which are our offices. The state of most police stations is just disgusting. 
Also Read: Working Lives: The Agbo Seller who Always Cried Because Her Parents Couldn't Afford JAMB Forms
Who do you want to be in charge of any new funds to improve police welfare, the police hierarchy, or a body made up of people from companies that have been supporting the police and civil society organisations?
I don't trust those our ogas at the top with funds o. They care only about their pockets. I prefer an organization with people from the private sector to oversee funds for police welfare. The private sector does it better, there will be more accountability in managing funds. Dangote Foundation is doing so well with the donation to the force. If we can see more of these organisations with people from the private sector to oversee things, things will be better, I tell you. 
What drives corruption – the fact that it is rarely punished or the very poor pay and conditions? 
I don't think poor pay is an excuse for corruption. Senators and Governors are corrupt and imagine the kind of salary they go home with monthly yet they still steal money meant for the people. If corrupt police officers, senators, governors, and the like are punished publicly when found guilty of corruption, that will make others adjust.                                                               
In your view, how many policemen out of ten take bribes? 
I know 9 out of every 10 policemen take bribes. 
What are the most "lucrative" postings? 
Like you already know, the controversial SARS unit is one of the most lucrative postings, and then when you get posted to the RRS unit too, it is also very lucrative.  Though the policemen in the RSS are not as corrupt as the SARS unit, they too collect money at illegal checkpoints in the night.
How much would an extremely corrupt officer make in a week?
The person that collects the bulk of the money made every day is the Divisional Police Officer (DPO). When his or her boys are out to hunt and have gone on patrol for the day, whatever they make, the DPO takes half. In some cases, the DPO takes more than half. Those that have good relationships with their boys don't take more than half. Let's just say an extremely corrupt DPO makes N300,000 in a good week. Then amongst the officers that do the actual job on the roads and at checkpoints, the extremely corrupt ones make N100,000 in a week. The funny thing is some of these officers even lie to the DPO that they didn't make any money for that day. They don't remit up to the amount they got. So you can see that there is corruption while still being corrupt at the same time. I don't know if I am making sense. 
Are your Ogas more responsible for the poor conditions or the Government?
It is both ways. The little the government tries to help with, our ogas at the top misuse the funds, and then the government themselves are doing the bare minimum. The whole system is corrupt!
How much do you have to pay for a very lucrative posting?
It depends on the unit you want.  But generally, N150,000-N200,000 is ok to get a lucrative posting. But having someone in the hierarchy also helps a lot. 
The three most lucrative offenders?
Yahoo boys, those caught with marijuana or other kinds of drugs, and prostitutes. But what prostitutes pay is not much. We just use that one as change. Some of them even offer you sex because they don't have money. 
Your best experience in the service? And your worst?
I don't have any best experience. It is simply not a good job.
Do the Police have disagreements with each other e.g. on if to detain someone or torture people so they can pay?
Yes. This happens a lot. For instance, we arrest someone who is a yahoo boy, he offers to pay N50,000 but we insist on N100,000, one of us may ask us to take the N50,000. If any officer keeps being lenient, others will gang up against him and find a way to get him kicked out of the unit. So once you are a policeman and you are working with a unit, you have to be a party to any atrocity they are committing or risk getting kicked out.
Also Read: Working Lives: The NURTW Agent Saving to Open a Carpentry Workshop
What were you doing before you started working as a police officer?
I wasn't doing anything. It was a year after secondary school that I started working as a policeman. I was planting the little I could on the family farm before joining the police. 
How many hours do you work in a day?
I work for 8 hours in a day whether I am on the morning or night shift.
What's your best day like on the job?
When I don't have to use this gun. I just don't feel so good pointing a gun at a fellow human being. The fear alone is terrifying, seeing someone so scared. If I am pointing the gun at a hardened criminal, I don't feel bad about this. 
How much do you spend in a day?
I spend N1,000 daily. This covers my transport fare to work and also my feeding for the day. 
What other things do you spend money on?
My house rent, children's school fees, buying foodstuff at home and all that. And then I also get to relax during the weekend with two bottles of beer and catfish pepper soup. 
For how long have you been in the force?
I have been in the force for 10 years.  I joined in 2010. 
Do you have savings/ how much do you save in a month? 
Savings ke. I find it very difficult to survive on my policeman salary, how can I save?
Are you married?
Yes, I am happily married with 3 kids. 
Do you have plans to venture into something else apart from being a police officer?
Not at all.  I am stuck with this job.