Office Lives
Office Lives: Ier Jonathan-Ichaver, Co-Founder, Sesor Empowerment Foundation
Ier Jonathan-Ichaver is an experienced private sector partnerships and fundraising consultant with over two decades experience in the private, non-governmental organization (NGO) and international development sector. She is also a social entrepreneur and a social justice advocate. She also worked in various capacities around Fundraising and Corporate Alliances in the United Nations System. She is the co-founder of Sesor Empowerment Foundation. Ier is a graduate of Economics from the London School of Economics and Political Science and also holds a Masters in Political Management from George Washington University, DC, USA.
What did you dream of becoming as a child?
Growing up, I had different dreams about what and who I would love to be when I grew up. My dreams were constantly changing because I wanted a profession that would enable me to contribute to the development of Nigeria and the world. Luckily for me, I found that in Economics. I studied at the London School of Economics, University of London. Ngozi Okonjo Iweala's achievements have been a source of inspiration. I heard about her for the first time in 2003 while I was working for Merchant Banking Corporation (MBC). That was when she became the Minister of Finance for Nigeria under the Obasanjo regime. 
Which secondary school did you attend?
I attended Federal Government Girls College, Gboko.
Was the Merchant Banking Corporation (MBC) your first job?
No. I previously worked with two organizations; a Church and Magnum Trust Bank, before Merchant Banking Corporation. I got posted to a church for my NYSC. After my service year, the church retained me as a campus minister. Then, I worked briefly with Magnum Trust Bank before joining Merchant Banking Corporation as a Treasury Marketer. I marketed investment instruments, commercial papers, etc.
For how long did you work as a treasury marketer? And how did that shape your career?
I spent three years working as a treasury marketer. One of the things that influenced my going into the marketing space was my outgoing nature. I have always been very comfortable with approaching strangers to donate to a project or support a cause.  I developed this passion when I joined a Christian group that raised funds for charity purposes while I was a student in the UK.
Being in the treasury marketing role was similar to what I did in the Christian group, except that I was selling investment instruments. My role as a treasury marketer helped me form root-deep connections with brilliant minds who are shining a light in the finance world today such as Mrs. Vivian Aku (Marathon Fund), Bola Ajomale (former MD, NASD), Diran Olojo (FCMB), Funke Osibodu (former MD, Union Bank), Gbenga Shobo (First Bank DMD), Femi Bakre (MD Parallex) to name but a few. 
How would you describe the treasury function in the bank and treasury markets to someone selling roasted corn in Yaba?
When you put your money in a savings account, the bank is obliged to pay you interest on your deposit. The job of the treasury department is to look for different things to invest in so that the bank could pay back your deposit with interest and also make some money for itself. Treasury marketers do this by taking money from people who are saving for one month or more and find companies to lend the money to. The companies pay back and we pay you with interest.
Walk us through your day as a treasury officer. 
The first thing I do when I resume to the office is to look at investments that have matured for that day. We monitor this daily and would have to call our customers before the maturity date to ask if they would want to roll over or if they have other plans. Customers who want to liquidate would have informed us earlier and we prepare their cheques on that day.  And for customers who want to roll over, we would negotiate the rate, comparing it with what is in the market. Once done with the paperwork, I would hand it over to the treasury operations team. I would then go out to look for more people who could invest money with the bank. We send confirmation letters to those who rolled over their investments or liquidated them.
Which is more important: having the people skills to get people to invest money or knowing where to put the money to generate more money for the bank? And which did you excel at or preferred?
Both are equally important; you cannot do one without the other. If you excel at one, it is wiser to focus on that strength area.  The people skills aspect came naturally to me, I loved being out, meeting people, building relationships, and encouraging people to invest.
Functionally, do banks separate the personnel who go out to sell and those who look for where to invest?
In my experience, you are required to do both. However, my case was different. I was not the best in backroom technical work, which is why I will advise that banks should study their employees to understand their skills. That is where staff performance reviews and the like come in. I had very smart bosses. While they mentored me and invested in strengthening my skills for technical analysis, they also leveraged my strength. There were times when they would assign the technical work to someone else to allow me concentrate on the people side of the business i.e., closing deals. I do not know if this still happens in banks now.
In your time at the bank, what were the top three things that treasury officers were investing money in?
Foreign exchange was the number. I dealt in naira. On the Naira market, commercial papers were the main thing. We were always looking for blue-chip companies, Unilever, Cadbury, etc., to get them to issue commercial papers and we would get our clients to invest in them. In those days, we also made money from bankers' acceptances which I do not hear people talk about anymore. 
How did you find your way to the London School of Economics? And how was the experience as a young Nigerian in London city?
To be honest with you, I was not the best student. My dad worked as a financial controller at Benue Cement Company. He had contacts with my uncle who could assist with enrolling me in schools outside Nigeria. I did my A levels at Padworth College near Reading. Going to England to study at 16 was quite a culture shock. I felt all the British ever did was eat and drink tea; after they must have had breakfast, they would go for a break of tea and pastries at 10 am and lunch break at 1 pm and then another tea break at 4 pm. Thereafter, they would have dinner. I was quite surprised by their eating habits but I got used to it eventually.
I studied Law, Economics and Mathematics for my A levels. Padworth College is a very good school. It was fairly small in size. By the time I graduated, I had finally decided to study Economics and maybe do some work in development economics.  I thought of working at the World Bank. Initially, I was a bit lost at the London School of Economics (LSE). It is a very big place with a lot of people from all over the world. I was also a bit younger than the typical students. The lecture halls were bigger than at Padworth College or our classrooms at Federal Government Girls College, Gboko. I withdrew into myself a bit.  It took me quite a while to adjust to the new system. Around my second year at the LSE, my father started having some financial issues.
This was during Abacha's regime. The Nigerian economy was going through a tough time and there was a lot of turmoil. That affected my performance at school. But I graduated in the end. I always tell people I graduated with a Third Class. So, I always tell people that even if you graduate with a Third Class, you can still do something worthwhile with your life. But by the time I graduated, I was not interested in being an economist anymore. I found economics a bit more complex than I thought it would be. I did not understand much of the modeling and theories. The LSE has its fashion of teaching economics which just did not suit me in many ways.  However, I enjoyed the development economics which I could easily relate to our situation in Nigeria or Africa. Many of the courses were very heavy on modeling and I struggled.
What did you do after banking?
I wanted to do a lot more NGO work after I left the banking industry. I have always been involved in fundraising in one way or the other. Even while I was in the banking industry, I was always fundraising for one good cause or the other. I organized swimming marathons for charity and raised money for HIV patients to mention but a few. I enjoyed every bit of it. So, I wanted to work more in the non-profit space. But I was not sure at that time because I needed to understand more about the NGO sector. After I left the bank, I ran a mobile bookshop called Literati. I loved books. I was also doing a lot of leadership programmes and speaking to teenagers, young people, and schools. That was a very interesting phase of my life. That experience gave me some grounding in leadership. After that, I joined Professor Pat Utomi's Center for Values and Leadership.
I did a lot of fundraising, youth development, programme design and implementation. Thereafter, I got to the United Nations Children's Fund (UNICEF) as their private sector fundraising specialist. My marketing experience in the banking sector came in handy in that role. One of the things people do not know about UNICEF is that at that time, at least 30% of its funding came from the private sector and individual donations. This taught me a lot about how individuals could build organisations which do a lot of good in the society without depending on government funds. That was a huge lesson for me.
Now, I am very passionate about people not being dependent on government subventions and allocations. Most Nigerian states are today dependent on allocations from the federal government because they have not learnt to build and depend on their own resources, especially the people. 
Share with us your UNICEF experience.
I started with UNICEF at their Lagos office. It was one of those few work places where everyone is hugging, sharing food, etc., while also performing at a very high level (I am very blessed. MBC was this way too!). Part of my role included getting in touch with private sector entities to support UNICEF's work in Nigeria. So, a lot of my time was spent setting up meetings, writing letters, going to meetings, making presentations, and educating people, because a lot of people felt a United Nations agency would not need money from Nigerians.
People think UN agencies get a lot of money from governments. Governments do fund them but a very substantial part of their funding is from private sources which include companies, individuals and foundations like the Bill and Melinda Gates Trust. UNICEF is now sensitizing people in the country to support the work they do in Nigeria. One thing I would recommend is that the Nigerian government also build relationships of trust that make everyone – citizens, companies, charities, foundations, etc., – very enthusiastic to work with them to solve society's problems. While I was at UNICEF, we worked with government agencies and companies like MTN and Airtel on projects like polio vaccination, renovating primary schools, training teachers, etc. It was very interesting work.
Many people will consider you lucky to have transitioned from a career in banking to an international organization. What were the two or three things that qualified you for that explosive career transition?
I think it was about me never being complacent about where I was. I always listen to my inner person to do what my heart and my spirit are telling me. I frequently withdraw on private retreats. I may have two or three retreats in a year. I had a private retreat two months ago; I went to a lake resort in Lagos. I spent time praying, thinking, meditating, writing, reading, and thinking through the next thing to do. It has been a continuous growth process. This is something I started during my National Youth Service. Let me first say this, I believe firmly in the idea of blooming where you are planted. So, I believe I will be fine if I do my best.
I never worry about how much I am going to be paid. I am not saying I am extremely wealthy. I have been blessed and fortunate that I have not been in extreme want. I have that luxury to be able to say "I may not have millions in the bank, but I can see a way through to survive". I am very industrious. I used to make and sell salads and other things. I do not have an expensive lifestyle. I do not buy designer clothes or accessories. I am a very simple person; I am not one of those people who need a large wardrobe. So, I could afford to think of what I would enjoy doing and what impact I could make doing it rather than how much money I would make. I was starting to feel I had seen it all working with an NGO and was looking for a bigger challenge.
But I was not actively looking for a new job. One day, I saw an advert in the Guardian Newspaper for the role of a Fundraising Specialist at UNICEF. At the same time, a close friend of mine sent me a message to look for the advertisement in The Guardian. UNICEF required someone with a master's degree for the position. I applied even though I had no master's degree. I am the kind of person who loves to try. I believe the worst that could happen is I might not get the job. I do not preclude myself. A lot of graduates believe that job adverts in newspapers have already been given out to people, so they would give up applying. I do not believe that I will try all I can and leave the rest to God. I was invited for an interview at the UNICEF headquarters in Abuja. I remembered that my friend's mother was working at the United Nations in Nigeria as well as another friend's uncle – Mrs. Bialonwu and Dr. Emmanuel Gemade. I spoke to them as part of my preparation for the interview and they were really very helpful.
What was your experience like working with UNICEF in Geneva?
My experience in Geneva was another change in my life. After working with UNICEF in Nigeria for four years, I got a bit tired. I wanted to expand my horizon, grow and also learn some new things. I began to realize that much as the UN is fantastic at its work, it is not here to help you change your country but to support the government. And if the government is not bringing its A-game to the table, then the government might not get the best from the UN. Some time ago, there was a situation with the National Primary Healthcare Development Agency. We had an amazing professional who was in charge of getting all the vaccines out on time. Vaccine efficacy in many cases, of course, is dependent on how they are stored.
So, if you do not have your logistics in place and the supply chain of how you are going to move these vaccines, store them and move them at the right time, the vaccines may get spoilt and lose the required level of efficacy. The person who had recommended the doctor to be the head of that agency in that political dispensation fell out with the powers ruling at that time. So, they got rid of the doctor and replaced her with someone who was not as knowledgeable and qualified. I remember we once attended a public meeting with donors, the new person did not even know the terms and acronyms of that sector. It was really bad. Nigeria had made a lot of progress with polio eradication. Everything went downhill after the new person took over.
I remember looking at the map which tracked polio globally; the map revealed that polio infections started rising in Nigeria after the new person resumed. It was in this period that a particular strain of polio detected in Mecca originated from Nigeria. What that taught me was that, if you do not get your politics right, you do not get the right people who will make sure that competent people are hired to lead these agencies on the right path.
What seems to be the greatest problem in our civil service? Lack of money or lack of capacity is linked to political issues. 
I am part of a group called FixPolitics where issues like this are discussed all the time. The three things are; lack of character, lack of competence, and lack of capacity rooted in political dynamics. Character defines everything, if you do not have that spirit of excellence, you might just end up doing as you please and taking irrational decisions. Also, someone who lacks the spirit of excellence and who is not a person of character might employ people who lack competence. Such a person might not understand that everything must be intentional. We all want quality health services however; it does not just come by prayers and wishes. It comes from investing in our doctors, scientific research, and making sure doctors and other medical practitioners are paid well. Another challenge is some people in power do not understand the importance of competence and they cannot see it themselves. All they want is to enjoy the perks of office and the power it gives them.  
How do these issues affect our capacity to engage international and development institutions and get the best from the relationship?
Terribly. The really scary and crazy thing is that when African countries are invited for negotiations on trade terms with the World Trade Organization (WTO) in Geneva, the other countries will go and be engaged fully but many Africans tend to go about shopping and dining and collecting souvenirs. Many do not understand the importance of negotiations like that. This has been going on for years – I hope it is now changing with Ngozi Okonjo Iweala heading WTO. If you are not on the table, how will you negotiate anything interesting for yourself or your country? They would then come back to complain that the rest of the world are racists.
Professor Wole Soyinka once said that he does not understand Africans – they will go about investing in developed countries; we buy all their products, our children go there to school, we go for healthcare services, etc. Africans need to be logical. I remember that I was also affected personally. When I wanted to change from UNICEF Nigeria, I applied for a job opening in Sudan with one of the agencies. It was a fundraising job, but it was fundraising from governments of the world. And of course, I have worked with people who did that, so I understood it very well. I got invited for an interview and I made it to the final stage. I later got an email that another candidate has gotten the job. A year later, I went to a conference in Greece, and one of the recruitment panelists for that interview introduced herself to me at the conference.
She told me I was the best candidate but they could not give me the job because they had to look at the African environment and select a country that would readily give aid. The job went to a Southern Asian country that is a net giver of aid. The Nigerian government does not give aid. They needed someone who could go to their government to get cheques or sign an MoU providing funding for Sudan. She said that the Nigerian government would not be able to do that and that was why they did not give me the job. As much as we are doing our politics in Nigeria and we are so insular, we need to know that we are losing out on the world stage by not putting forth our very best. So, if your president is meeting the female leader of the largest economy in Europe, and he says his wife belongs in the kitchen and the other room, you should be worried about how your leaders portray you in a world where everyone is competing for investments, jobs and so on. 
How do you spend your working days these days?
After I left the United Nations, I came back to Nigeria and I started working with an NGO I founded called Sesor. We work with Internally Displaced Persons (IDPs), especially women and provide relief and rehabilitation services. Until recently, I would just spend my time having staff meetings, looking at our fundraising strategies, and reaching out to different people to fund our programmes. It is very much of what I was doing at UNICEF, but this time with a different message. We may go to the field to visit some of the displaced women and their families who live in shanties. Typically, they are the wives of the Okada riders who have just been banned or a security guard. When we visit them, it could be that a woman is pregnant, or she just had a baby or her baby died due to sickness. We commiserate with her, take some relief materials to her and monitor how she is living. At times, we tell such stories to people so we can get more support for them.
This is what I have been doing until last month when I decided to go into politics. I got frustrated because the number of displaced people has kept rising. A lot of the social and economic problems that we have allowed to fester over decades are now exploding – not investing in our human capacity especially in youths, the failure to successfully reform our power sector and boost investments in generating and delivering electricity, etc. All these have resulted in a very high rate of unemployment and insecurity. It is not looking as if the regular politicians realize the danger and do not seem ready to start acting. I have taken a break from Sesor Empowerment Foundation after ten years of building it with others. I am still involved in some of their activities, especially fundraising. I also attend some meetings. But right now, my main focus is politics. I come from Kwande in Benue State. Kwande shares a border with Cameroon; some refugees come from northern Cameroon to seek refuge in Kwande. There are a lot of people who are displaced because of terrorist herdsmen attacks.
There is another community called Moon. It has been empty for five years because these terrorists or terrorist herdsmen have destroyed the community, so nobody goes out there anymore. Some of the terrorists have taken over the community. We take relief materials to the displaced. I believe they need a stronger voice – and on many other pressing issues. So, I decided I am going to get into politics. I want a bigger platform to advocate around IDP rehabilitation issues, advocate security and justice issues, and address some of the infrastructure issues, the lack of jobs, and empowerment for our people. There is quite a lot of work to do. I am in that political space now. I just got the ticket to represent my federal constituency with one of the political parties. So, it is now a whole different journey again, trying to amplify the work that we are doing and represent people and bring their challenges to the fore and find solutions.
Many people would argue that you are more likely to be in a position to influence or drive change as a PDP or APC candidate. 
I do things out of conviction and I have very little patience for nonsense, injustice, or unfairness. My personal opinion is that those in leadership positions who have failed us are traitors to Nigeria and perhaps, should be tried for treason. We have seen what they have done to this country in the last 23 years of their democratic dispensation. Everything has gotten progressively worse. I think they should be tried for crimes against humanity because a lot of Nigerians have died needlessly. Sadly, Nigerians have some kind of Post-Traumatic Stress Disorder (PTSD) and some kind of Stockholm syndrome, so we have gotten used to the incessant death, attacks, war, and poverty. A close family member is a member of one of the bigger parties so when I told him I wanted to join the other platform, he asked me to join a bigger party. I told him I stopped voting for those big parties in 2003. I voted for Professor Pat Utomi in 2003 when he ran for the presidency.
I knew he was not likely to win but I was not giving my vote to the big parties. I was out of the country in 2007 so I could not vote in the 2007 elections. I was disenfranchised in the 2011 election; I went to a school to collect my voter's card but area boys came and scattered everywhere and then I had to travel out of the country for work. In 2015, I voted for Professor Remi Sonaiya, and then in 2019, I voted for Dr. Kingsley Moghalu. I was going to vote for Dr. Oby Ezekwesili because she embodied everything I believe in, but she dropped out of the race due to issues with her party. I stopped voting for the big parties years ago. I do not believe in them even though they have the numbers. I am of the Christian faith and we walk by faith, we do not walk by sight. I have come to believe that whomever you are voting for is your prayer for your life.
So, voting for PDP or APC means you are telling God that you like what they have been giving you over the years – terror, death, hunger, poverty, etc. People often tell me that voting for the people I believe in is like wasting my vote because they will never win. I tell them it is not about winning or losing, it is about how you progress and how you walk. We are building a mission and if I joined the PDP or APC, they would not even give me space. Some among them might even tell you to bribe them, sleep with them or carry out a sacrifice somewhere before they allow you in. I am not going to live like that or do that with anyone.
I believe it is not a viable strategy for young people to join the big parties. It is better to join a small party where you can make a change. That is not to say that the smaller parties have been spared of the rot that the PDP and the APC have caused in the political system. Now it is the season for politicians who have not been able to get tickets in the APC or the PDP to run to the smaller parties for tickets. And if you have a smaller party where you do not have people of character, they would sell your ticket under your feet. So, one has to be vigilant. However, you have more of a chance to have influence and have a say in a smaller party.
There has been a trend of a succession of small parties having candidates, but after the elections, both the candidates and the parties fizzle out. How do we build a major national party from a small party that grows its membership and spread election to election?
I think what we need to do is to get involved. Getting involved is not just about getting your Permanent Voters Card (PVC), we should join the parties and help them build. I have watched my father for many years. He has never run for an elective position, but I have watched him invest in communities for years. He cares about his community. Now he is old and frail, so he does not have the kind of strength he had before. He still supports people in my community in the little way he can. He seeks help if the issue is beyond him. Now, a lot of us help to an extent within our extended family or people we know in our villages. But how many of us go to our areas or how many of us are involved in our local communities?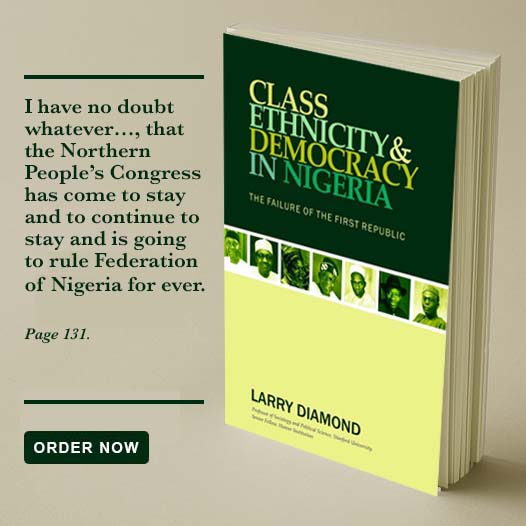 A lot of us have left it for politicians and we are seeing the results now. There is so much work that needs to be done in our political parties. They need to put in place proper structures, they need to have regular meetings, etc. If we want a better country, we have to make those sacrifices. So, young Nigerians and professionals have to get more involved, be at the parties' meetings, and support the parties, because the more you do these things, the more you can have an influence and lead the people. At the chapter or ward levels, the parties do not have bank accounts. They have no records of funds given to the chairman or secretary.
Those are things you can weigh in and advise on. You could suggest things like party guidelines, protocols on how we spend money, or a policy document that says, if you come to my meeting, I will pay you an honorarium of ABC. It will help reduce people saying they were not given any money or people fighting over food and accommodations during meetings. So, those of us in the private sector who have organizational skills are needed at these party levels; local government, state, and national levels. So, you can put in place some of these things and begin to create political organisations that follow rules and deal with the issues around electoral financing and so on.