Here are some funding opportunities available as at November 22:
IITA Agricultural Project Training For Young Nigerians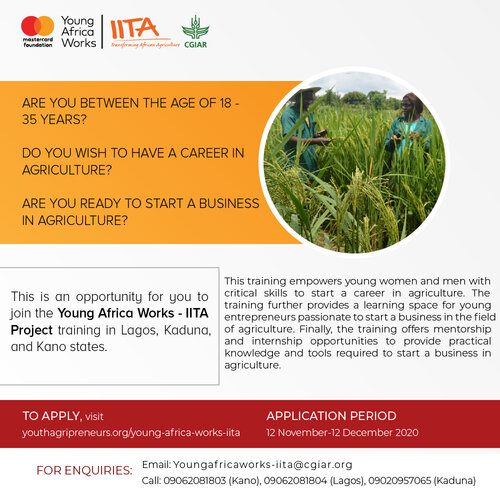 The International Institute of Tropical Agriculture (IITA) together with MasterCard Foundation have launched a programme aimed at building the capacity of 40,000 Nigerian aspiring agriculturists within the age range of 18-35 years.
The programme is about improving the skill set of the participants so as the make them employable and even become entrepreneurs.
At the moment, The Young African Works-IITA project is seeking applicants from Kaduna, Kano and Lagos states. They will be trained to work within the supported value chain of rice, soyabean, maize, cowpea, poultry, vegetable, mushroom, groundnut, fish and livestock. There will be access to after training support. To apply, visit https://docs.google.com/forms/d/e/1FAIpQLSfeZIFiSJBtuFcXK1n-3GQif-Tnmk83qiilaCz2U3Ujqwad_g/viewform
2. Application for Founder Institute's Pre-seed Accelerator Programme
Up and coming entrepreneurs are called to participate in the next version of Founder Institute (the world's largest pre-seed start-up accelerator) Lagos chapter's Cohort IV. The 14-week programme will take the participants through capacity building work weekly. They will receive constant feedback and regular office hours with 50+ Lagos Mentors, investors, and entrepreneurs. Also, they will make quick progress on their startup journey using a proven, structured process to get traction and funding that has helped alumni build great products and raise over $950M in funding for their products. There will be privilege to a suite of post-programs, including Funding Lab for expert venture support for years. They will have networking access to startup founders, CEOs, and investors from the Founder Institute's global network of 4,500+ alumni as well as 18,000+ mentors across 200+ cities. To apply, visit http://fi.co/apply/lagos
3. Call For Applications For Startup North-East Programme
Ventures Platform Hub's impact arm, Venture Platform Foundation has launched an incubation programme called Startup North-East. The initiative which is supported by the US embassy in Nigeria is created to support, fund and mentor tech-based start-ups in the North-Eastern part of Nigeria. To apply, visit https://startupne.venturesplatform.com/. Six start-ups will be selected. Deadline for application is December 2, 2020
Also Read: Funding Opportunities for Business – November 15
4. Women in Business Growth Lab 2020 For Nigerian Female Entrepreneurs.
A female entrepreneurship programme called 'The Women in Business Growth Lab' has been launched by Connect Lab
The 3-month programme is meant for early stage start-ups in Nigeria that are owned by women. There programme has four components: Co-creation and Value Proposition BootCamp; Incubation Programme; Women in Business Deal Day and the Growth Mentorship Exchange. 40 female entrepreneurs will be allowed to participate in this initiative. To apply, visit https://bit.ly/wibgrowthlab. Deadline for application is November 30, 2020
5. The Thrive Africa Challenge
To solve the problems in the Agrifood industry in Africa,Silicon Valley Global (SVG) Ventures, an investment firm has organized a competition called Thrive Africa Challenge to select promising AgriFood companies and give them financial and other forms of support to enhance their growth.
Intrested start-ups should be tech-based involved in areas such as software production, food safety, indoor farming, biotechnology, farm management, sensing and IOT, animal health & livestock, robotics & automation, ingredient innovation, big data & predictive analysis, supply management & traceability and packaging & freshness solutions.
To apply, visit https://airtable.com/shrWknTVDkRWDjku1
6. Calls For Proposals To Improve Food Security And Nutrition In Africa
The Alliance for Accelerating Excellence in Science in Africa (AESA) has announced a new funding for innovations to improve food security and nutrition in Africa. AESA is a funding initiative created through the partnership between African Academy of Sciences (AAS), the African Union Development Agency ( AUDA-NEPAD), founding and funding global partners and the resolution of the summit of African Union Heads of Government.
The innovation grants will be issued under the Grand Challenges Africa (GCA), a programme implemented in partnership with Bill&Melinda Gates Foundation. GC Africa aims promote Africa-led scientific innovations to help countries better achieve the Sustainable Development Goals by awarding seed and full grants to the continent's most impressive
Profit, non-profit organizations, government laboratories, research institutions, colleges and universities can participate in this initiative. Maximum of $100,000 will granted for projects for a maximum of two years. To apply, visit https://africa.us9.list-manage.com/track/click?u=c8fd3c48957cbd828f630f492&id=169faa016f&e=34549e8f98. Deadline for application is December 4, 2020
7. Pacer Ventures To Invest In Tech-based Start-ups In Africa
Some innovative tech-based start-ups that are into healthcare, financial inclusion, education and agriculture will be benefiting from Pacer Ventures's $3m funding. The investment firm was registered in the US and operates in Sub Saharan Africa. Apart from financial assistance, they will also be supported in areas like team building, access to markets, resources and networks. This initiative is developed through partnership with Founder Institute, the world's largest pre-seed start-up accelerator
VPD, Money, AI (Analytics Intelligence), Farm 365, and Learn Power are amongst the start-ups being supported by Pacer Ventures.
Also Read: Funding Opportunities for Businesses – November 2
8. Bundle Launches Operations in Ghana
Bundle, a social payment app for cash and crypto launched in April has expanded its operations to Ghana with the intention of spreading to other countries in the nearest future. Ghananians can now download Bundle on Google Play and App Store.
Bundle which was founded by Yele Bademosi (investor and founder of venture firm, Microtraction) was incubated within global blockchain company Binance and secured US$450,000 in funding from the firm in advance of its launch.
The app has recorded exponential month-on-month user and transaction growth since it began operations, hitting an all-time high monthly trade volume of US$14 million in September and launching its Vault cryptocurrency savings feature earlier this month.
9. Autochek Series $3.4m Pre-seed Funding
Nigerian automotive technology start-up, Autochek has secured $3.4m pre-seed investment from TLcom Capital, 4DX Ventures, Golden Palm Investments, Lateral Capital, Kepple Africa Ventures, MSA Capital and a number of local angel and seed investors.
Autochek which had already acquired  Cheki Nigeria and Cheki Ghana has more than 20,000 unique vehicles listed on its platform, and more than 12,000 dealers and private sellers, as well as a range of corporate partners and customers.
The company will use the investment to grow its Nigeria and Ghana markets, and further invest in technology and growing its teams.
[ajax_load_more container_type="div" post_type="post" posts_per_page="2″ offset="1″ destroy_after="1″ tag='funding african businesses']